The Civil Aviation Authority of the Philippines (CAAP) has decided to put in place emergency protocols as it is fixing the Airport Navigation technical issues brought by the power outage experienced by Philippine Air Traffic Management Center (ATMC) earlier today.
Update: As of 4:00 pm today, the system has been partially restored but the airport is still on very limited operation. This is a developing story so please standby for more updates.
Why the flights are cancelled today?
Flights are on-hold/cancelled due to the ongoing technical issues in the Communications, Navigation, and Surveillance System for Air Traffic Management affecting the radar services within the Philippine Flight Information Region (FIR).
Cebu Pacific Canceled Flights – 1 January 2023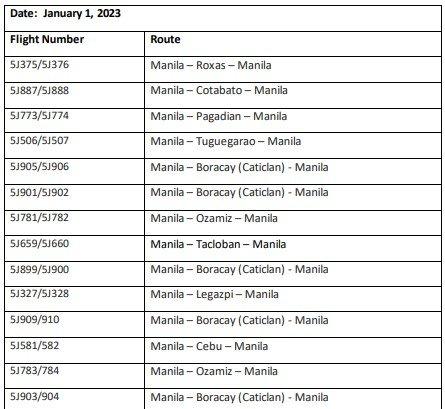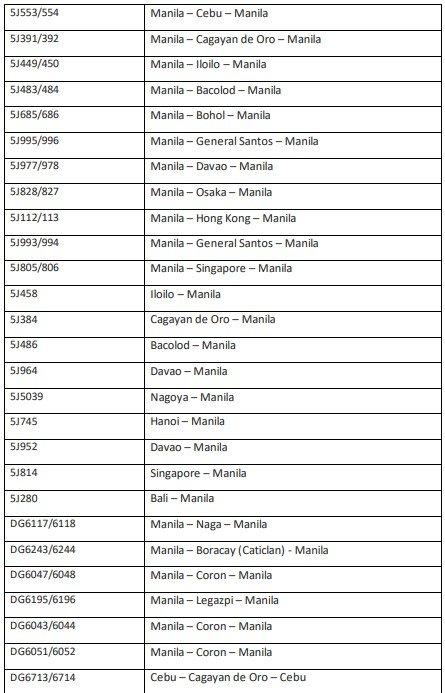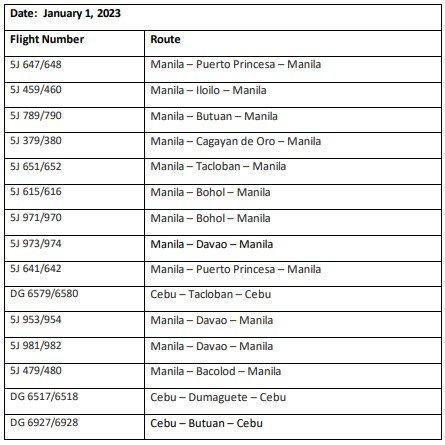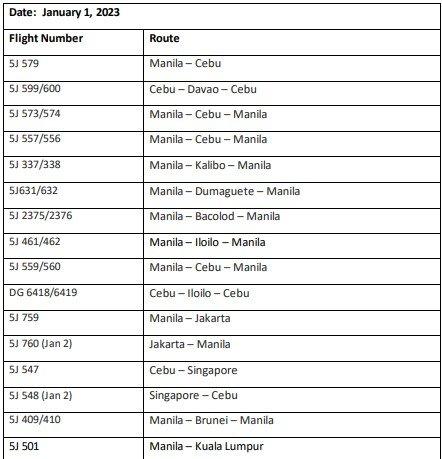 Philippine Airlines On Hold or Cancelled Flights — Today, January 1, 2023
Domestic flights
PR 2037/2038 Manila-Caticlan-Manila
PR 2231 Baguio-Cebu
PR 2142 Iloilo-Manila
PR 2143/2144 Manila-Iloilo-Manila
PR 2853/2854 Manila-Cebu-Manila
PR 2681/2682 Manila-Cebu-Manila
PR 2785/26786 Manila-Puerto Princesa-Manila
PR 2817/2828 Manila-Davao-Manila
PR 2825 Manila-Davao
PR 2808 Davao-Manila
PR 2960 Cotabato-Manila
PR 2919/2920 Manila-Legazpi-Manila
PR 2133/2134 Manila-Bacolod-Manila
PR 2135/2136 Manila-Bacolod-Manila
PR 2833/2834 Cebu-Clark-Cebu
PR 2368/2369 Cebu-Caticlan-Cebu
PR 2365/2366/2880 Cebu-Davao-Cebu-Manila
PR 2041/2042 Manila-Caticlan-Manila
PR 2987/2988 Manila-Tacloban-Manila
PR 2924 Legazpi-Manila
PR 2938/2939 Manila-Butuan-Manila
PR 2145/2146 Manila-Iloilo-Manila
PR 2546 Dumaguete-Manila
PR 2783/2784 Manila-Pagadian-Manila
PR 2970 Kalibo-Manila
PR 2045/2046 Manila-Caticlan-Manila
PR 2787/2788 Manila-Puerto Princesa-Manila
PR 2774 Tagbilaran (Panglao)-Manila
PR 2043/2044 Manila-Caticlan-Manila
PR 2147/2148 Manila-Iloilo-Manila
PR 2132 Bacolod-Manila
PR 2997/2998 Manila-Zamboanga-Manila
PR 2529/2530 Manila-Cagayan de Oro-Manila
PR 2196/2197 Manila-Laoag-Manila
PR 2525/2526 Manila-Cagayan de Oro-Manila
PR 2522 Cagayan de Oro-Manila
PR 2543/2544 Manila-Dumaguete-Manila
PR 2198/2199 Manila-Laoag-Manila
PR 2985/2986 Manila-Tacloban-Manila
PR 2777/2778 Manila-Tagbilaran (Panglao)-Manila
PR 2137/2138 Manila-Bacolod-Manila
PR 2079/2080 Manila-Catarman-Manila
PR 2047/2048 Manila-Caticlan-Manila
PR 2971/2972 Manila-Siargao-Manila
PR 2965/2966 Manila-Busuanga (Coron)-Manila
PR 2995/2996 Cebu-Zamboanga-Cebu
PR 2347/2348 Cebu-Puerto Princesa-Cebu
PR 2382/2383 Cebu-Siargao-Cebu
PR 2289/2290 Cebu-Bacolod-Cebu
PR 2973/2974 Manila-Siargao-Manila
PR 2314 Cagayan de Oro-Cebu
PR 2359/2360 Cebu-Caticlan-Cebu
PR 2287/2288 Cebu-Bacolod-Cebu
PR 2963/2964 Manila-Busuanga (Coron)-Manila
PR 2539/2540/2364 Davao-Iloilo-Davao-Cebu
PR 2238/2239 Cebu-Tacloban-Cebu
PR 2393/2394 Cebu-Butuan-Cebu
PR 2335/2336 Cebu-Butuan-Cebu
PR 2315/2316 Cebu-Cagayan de Oro-Cebu
PR 2398/2399 Cebu-Iloilo-Cebu
PR 2386/2387 Cebu-Iloilo-Cebu
PR 2680/2681 Cebu-Busuanga (Coron)-Cebu
PR 2388/2389 Cebu-Iloilo-Cebu
PR 2297/2298 Cebu-Cagayan de Oro-Cebu
PR 454 General Santos-Manila
PR 1814 Davao-Manila
PR 1859/1860 Manila-Cebu-Manila
PR 1844 Cebu-Manila
PR 1869 Manila-Cebu
PR 1836 Cebu-Manila
PR 1850 Cebu-Manila
PR 1815/1816 Manila-Davao-Manila
PR 1819/1820 Manila-Davao-Manila
PR 1863/1864 Manila-Cebu-Manila
PR 1867/1868 Manila-Cebu-Manila
PR 2823/2824 Manila-Davao-Manila
International flights
PR 507/508 Manila-Singapore-Manila
PR 501/512 Manila-Singapore-Manila
PR 306/307 Manila-Hong Kong-Manila
PR 418/419 Manila-Busan-Manila
PR 468/469 Manila-Seoul (Incheon-Manila)
PR 730/731 Manila-Bangkok-Manila
PR 597/598 Manila-Saigon (Ho Chi Minh City)-Manila
PR 736/737 Manila-Bangkok-Manila
PR 654/655 Manila-Riyadh-Manila
PR 684/685 Manila-Doha-Manila
PR 682/683 Manila-Dammam-Manila
PR 658/659 Manila-Dubai-Manila
PR 432 Manila-Tokyo (Narita)
PR 408 Manila-Osaka (Kansai)
PR 894/895 Manila-Taipei-Manila
PR 112/113 Manila-Los Angeles-Manila
PR 117 Vancouver-Manila (31 December 2022)
PR 103 Los Angeles-Manila (31 December 2022)
PR 105 San Francisco Manila (31 December 2022)
PR 433 Tokyo (Narita)-Cebu
PR 460/461 Clark-Busan-Clark
PR 502 Singapore-Manila
PR 425 Fukuoka-Manila
PR 526 Kuala Lumpur-Manila
PR 301 Hong Kong-Manila
PR 411 Osaka (Kansai)-Manila
PR 421 Tokyo (Haneda)-Manila
PR 437 Nagoya-Manila
PR 427 Tokyo (Narita)-Manila
PR 100 Manila-Honolulu
Air Asia Cancelled Flights 1 January 2023