Planning to visit Thailand? This is your comprehensive Bangkok Travel Guide featuring the best things to do in Bangkok, must-visit tourist spots, places to stay, and sample itinerary and estimated budget.
Bangkok is a city that has been captivating travellers from all over the world for years, and it's not hard to see why. The city is a hub of Thai culture, filled with endless things to do and see that are sure to satisfy even the most seasoned travellers. Whether you're exploring the city's magnificent temples, indulging in its vibrant street food scene, or admiring its towering skyscrapers, Bangkok is a city that will leave you awe-inspired.
The temples in Bangkok are among the most impressive in Southeast Asia. Their intricate designs, sparkling gold finishes, and peaceful ambiance offer a glimpse into Thailand's rich cultural heritage. But the city is not just about history and tradition. Bangkok is a modern metropolis with a bustling nightlife, luxury hotels, Michelin-starred restaurants, cozy cocktail bars, and a host of other exciting experiences. Find cheap flights to Bangkok
From the quaint, old-world charm of Chinatown to the lush greenery of its parks and gardens, Bangkok is a city that has something for everyone. So whether you're looking to explore the city's cultural treasures or soak up its energetic vibe, Bangkok is a destination that should not be missed. Check out this list of the 20 best things to do in Bangkok for your next vacation!
Things to Do in Bangkok [Top Tourist Spots]
Visit the Grand Palace
The Grand Palace is a sprawling complex in Bangkok that was designated in 1782 when the capital of Thailand moved from Ayutthaya. Once the home of the Thai royal family, it is now a central stop on the tourist route, housing several royal throne and ceremonial halls and the revered Wat Phra Kaew (Temple of the Emerald Buddha). The palace's ornate design and architecture reflect the essence of traditional Thai art and culture and provide a glimpse into the country's rich history.
Despite the Thai royal family moving out of the Grand Palace in 1925, this remarkable structure remains an iconic and integral part of Thai culture. A visit to the Grand Palace is a chance to experience the heart and soul of Thailand firsthand, for it speaks to the country's history and culture, making it a site that every traveller to Thailand should experience.
If you want to get a deeper sense of Thailand's culture and history, of course, you can visit all the other places listed below, but one thing that is not often mentioned is the Thai language. Learning a language can really enable you to get familiarized with a foreign culture in ways that only visiting the country will not allow. So, if you really want to dig deeper, you can learn Thai online, and start speaking a beautiful language with an even more charming script.
Explore Wat Pho
If you're planning a visit to Bangkok, you shouldn't miss out on one of the most famous wats in the city, Wat Pho. Situated behind the Grand Palace, Wat Pho is home to the world-famous reclining Buddha, a colossal golden statue that occupies the entire temple. It has now become one of the top tourist spots in Bangkok.
The reclining Buddha at Wat Pho is an iconic symbol of Thai culture and is undoubtedly a must-see in Bangkok. However, given the attraction's popularity, planning your visit early in the day or during the week is advisable to avoid crowds. Locals from all over Thailand also visit the temple throughout the year, especially during Thai holidays, adding to the temple's vibrancy and significance. A visit to Wat Pho and the Grand Palace provides a unique opportunity to experience Thailand's rich history and culture firsthand.
Shop at Chatuchak Weekend Market
No trip to Bangkok is complete without a visit to the legendary Chatuchak Weekend Market. This enormous market boasts over 10,000 stalls and offers a wide range of traditional Thai products, from food to handicrafts, clothing, accessories, paintings, house decorations, souvenirs, pets, plants, and more. The market is a shopper's paradise, where you can find almost anything you want at affordable prices.
The Chatuchak Weekend Market is not just a shopping destination but also a place to soak up the local culture and enjoy live music and entertainment. The vibrant atmosphere and diverse offerings make the market an exciting and lively place to spend the day. Don't miss out on this iconic Bangkok attraction that has captured the hearts of both locals and tourists for decades.
Take a tuk-tuk ride
Tuk-tuks, or three-wheeled motorized rickshaws, were once the most popular way to get around Bangkok before the BTS, MRT, and taxis took over. Initially created by fitting a 2-stroke engine onto an old-fashioned rickshaw, tuk-tuks have become a recognizable symbol of Bangkok, with the name "tuk tuk" originating from the sound of the early engines.
While there may be more practical modes of transportation, tuk-tuks remain a popular feature of the city, particularly among tourists looking for a unique experience. Riding in a tuk-tuk is an adventure in itself, with drivers often navigating through the city's crowded streets at breakneck speeds. However, it's essential to negotiate the fare with the driver before hopping on, as some may attempt to overcharge tourists. Despite their quirks, tuk-tuks are still a beloved part of Bangkok's culture and history and a must-try experience for visitors to the city.
Visit Wat Arun
Thailand boasts a staggering 37,000 temples, known as wats, each with unique allure. However, among them, the iconic Wat Arun stands out. This magnificent temple is instantly recognizable for its 269-foot tall prahng, a Khmer-style tower that dramatically juts out from the banks of the Chao Phraya River. Once night falls, the temple complex transforms into a breathtaking sight, with a beautiful golden glow that emanates from the structure.
Of the many temples in Thailand, Wat Arun is a rare one that visitors can climb. Though it is not for the faint of heart, ascending the steep and narrow stairs is an experience that is definitely worth it. Once you reach the top, a stunning panoramic view of the river and the surrounding temple complex awaits. A visit to Wat Arun is a must for anyone travelling to Thailand.
Cruise the Chao Phraya River
The Chao Phraya River is not only the lifeblood of Bangkok but also a source of adventure and scenic views. Boat tours along the river offer a unique perspective of the city, with the waterways showcasing some of Bangkok's most exciting and picturesque sites. In addition to the charming long-tail boats and water taxis that can take you anywhere you want, public ferries are a cheap and fun way to explore the city. For as little as Php30 (.60 cents), you can enjoy a ride along the river and take in the sights and sounds of Bangkok.
If you want to experience the best that Bangkok has to offer, make sure to check out the top attractions located along the river. These places have their piers, making it easy to hop on and off as you wish. A boat tour along the Chao Phraya River is definitely a must-do activity for any traveller visiting Bangkok, offering a unique and unforgettable experience that should not be missed.
Explore Chinatown
For those who love shopping, visiting the small walking street in Chinatown is a must-do activity in Bangkok. This street is a wholesale market where you can find all sorts of goods, from electronics to fabrics and toys, at affordable prices. Even if you don't intend to buy anything, walking through the busy street and taking in the sights and sounds is an experience in itself.
Yaowarat Road is the place to go if you're a seafood lover. At night, the streets are filled with stalls selling some of the best food in the city. Follow the locals and try out some popular seafood stalls like Fai-Kaew Yao Wa-Rat, which serves up a variety of delicious dishes like stir-fried crab and sweet and sour shrimp. Be sure to watch the cook in action as they shoot flames high into the air, adding to the excitement of the dining experience.
Visit the Jim Thompson House
Visitors to the Jim Thompson House can take guided tours, which give an insight into the life of Jim Thompson, as well as the Thai silk industry and Southeast Asian art. The house's decor combines Thai and Western styles, with hand-carved teakwood panels and traditional Thai furnishings.
The house is surrounded by a lush garden that provides a peaceful oasis in the middle of bustling Bangkok. The garden is home to several species of tropical plants, a lotus pond, and a Thai-style teakwood pavilion. The Jim Thompson House and Museum is a must-visit attraction for anyone interested in Thailand's rich history and culture. It is considered one of the must-visit museums in Bangkok.
Explore the Bangkok Art and Culture Centre
The Bangkok Art & Culture Centre is a true gem for art lovers, providing a profound glimpse into Thailand's traditional and contemporary art scene. The vast exhibition spaces complement an impressive art library and a range of shops and cafes. The centre also hosts temporary exhibitions by local and international artists, making it a dynamic and ever-changing space.
Beyond showcasing art, the Bangkok Art & Culture Centre plays a significant role in promoting underrated artists and supporting young talent from around the world. The building's unique architecture is also worth admiring and provides a picturesque backdrop for exploring the centre's offerings. Whether you're a lover of music, literature, history, or art, the Bangkok Art & Culture Centre is a must-visit destination for anyone seeking to explore Thailand's rich and diverse cultural heritage.
Visit the Erawan Shrine
The Erawan Shrine is an important religious site in Bangkok, attracting both Thai and foreign visitors who come to worship the famous statue of Phra Phrom, the Hindu god of builders. The shrine was established in 1956 due to a series of mishaps while constructing the adjacent Erawan Hotel. To expel the obstacles, the hotel's executives had to worship Phra Phrom, resulting in the shrine's construction.
Designed by Mr. Rawi Chomseri and M.L. Poom Malakul, the shrine houses the gilded plaster statue of Phra Phrom, with four faces symbolizing the four directions. According to Hindu belief, Phra Phrom can protect everything in the human world and heaven, help worshippers get rid of difficulty and obstacles, and encourage fortune and success.
Today, the Erawan Shrine is under the supervision of the "Than Tao Mahaprom Foundation" and is open to visitors daily, free of charge. The shrine is a popular destination for both tourists and locals and is a must-visit for those interested in Thai and Hindu culture.
Take a cooking class
Thai cuisine is incredibly flavorful and diverse, and taking a cooking class is a great way to learn about the ingredients and techniques that make it so unique. It's also a fun and interactive way to connect with Thai culture and the locals who are passionate about their food.
Whether you're a seasoned cook or a beginner, there's a cooking class in Bangkok that will suit your skill level and interests. Many cooking schools in Bangkok offer hands-on classes and market tours.
See a Muay Thai fight
Muay Thai, also known as Thai Boxing, is a significant component of Thai culture and the most popular national sport in Thailand. Catching at least one Muay Thai match is a must-do experience if you're planning a trip to Bangkok. This martial art has existed since the Middle Ages when soldiers were trained to fight using swords, bows, and arrows. The sport gained popularity after King Nareusan, one of the country's most renowned warriors, ordered the army to incorporate Muay Thai into their training during his reign from 1555 to 1605.
During an official Muay Thai match, the two fighters wear red or blue shorts and must fight for a maximum of 5 rounds, each lasting up to 3 minutes. The fighters cannot wear shoes but can have bandages wrapped around their feet for protection.
Whether you are a martial arts fan or just want to experience an important part of Thai culture, watching a Muay Thai match is a must-do activity in Bangkok.
Visit the Bangkok National Museum
The Bangkok National Museum, established in 1887 by King Rama V, offers visitors a view of Thailand's history and culture. It houses three permanent exhibition galleries that showcase items divided into periods, including the Thai History Gallery, the Archaeological and Art History Collection, and the Decorative Arts and Ethnological Collection.
Visitors can explore a variety of objects, such as gold treasures, precious stones, costumes, textiles, ceramics, old royal transportation, and musical instruments. Additionally, the museum features several examples of Thai architecture in the Early Rattanakosin Era, including the Buddhaisawan Chapel and Tam Nak Deang. The Cremation Chariot Hall is also interesting as it houses various Thai royal funeral chariots used for cremation ceremonies.
Relax in Lumphini Park
Lumpini Park, the first public park in Bangkok, is a versatile space with a large lake and plenty of flora and fauna. It has a rich history of hosting parties and ballroom dancing, but today, people come to exercise, practice Tai Chi, play games, learn social dancing and read in the library. The park is also home to the statue of King Rama VI, the Bangkok Elder Citizens Club, the Home of Hope, and the Lumpini Youth Center. Visitors can rent swan paddle boats and rowing boats, enjoy food and drink at the Sri Thai Derm Food Center, and listen to Thai and Western music during the Music in the Park events.
The green space of Lumpini Park is a popular spot for businessmen, tourists, and Bangkok residents to jog, relax, and breathe fresh air. It's also an accessible place for people with disabilities, with the Smiling Sun Ground providing playgrounds, resources, and special parking lots. The park even hosts Buddhist Dharma activities on the last Sunday of every month, where visitors can make merit, offer food to monks, and listen to Buddhist teachings. Lumpini Park truly offers something for everyone in the heart of Bangkok.
Experience the nightlife
Thailand is known for its lively Bangkok nightlife, with street parties and red-light districts being some of the most popular attractions. Khao San Road, Nana Plaza, and Soi Cowboy offer cheap drinks, clubs, and dancing, with bars and clubs lined up along the streets. Khao San Road is famous for its vast party atmosphere, while Nana Plaza has go-go bars and clubs in a three-story building, and Soi Cowboy boasts about 40 bars and has even been featured in movies.
Apart from the street parties, Bangkok's sky bars offer breathtaking views of the city and a different kind of nightlife experience. Rooftop bars such as Lebua Skybar, Vertigo, and Above Eleven offer various atmospheres from luxury to hipster and even live DJs and dancing. Lebua Skybar, located on the 63rd floor of The Dome at State Tower, is known for its stunning location and excellent service, offering beautiful views of the city and the Chao Phraya River.
Visit ICON Siam
ICON Siam is a luxury shopping mall in the Thonburi district of Bangkok, Thailand. It opened in November 2018 and is considered one of Asia's largest and most luxurious malls. The mall is located on the banks of the Chao Phraya River, providing stunning views of the city skyline and river.
The mall features a wide variety of high-end shops, with over 500 stores and 100 restaurants. Some of the stores and brands featured in ICON Siam include Louis Vuitton, Gucci, Dior, Prada, Chanel, and many more. The mall has a large food court, several fine dining restaurants, and a large cinema complex.
One of the most notable features of ICON Siam is its commitment to promoting Thai culture and art. The mall houses the Thai Art Gallery, which displays contemporary and traditional Thai art and a floating market that sells local products and crafts. Some regular cultural performances and exhibitions showcase Thai dance, music, and art.
Check out the best floating markets in Bangkok
Bangkok street food is a must-try for any food enthusiast, offering a mix of flavors and fragrances that burst with spice, sourness, sweetness, and saltiness. It's no wonder that CNN declared Bangkok as the world's best street food city. Adventurous foodies can also try dining at the floating markets, a unique experience where you can shop and dine while cruising down narrow waterways on beautifully decorated long-tail boats. Bangkok has multiple floating markets, and the best ones to visit include Damnoen Saduak, Amphawa Market, Taling Chan, Khlong Lat Mayom, and Bang Nam Pheung.
These floating markets offer an abundance of locally harvested tropical fruits, market stalls, and souvenir stores. To make the most of your visit, check out some quick tips and the best time to visit.
See the Animals at Safari World
Safari World Bangkok is an extraordinary attraction that offers visitors a unique experience of seeing various wildlife from both land and sea. With over 100 species of animals, visitors are in for an unforgettable journey through the 200-acre park. From rare animals such as lions, tigers, and giraffes to crocodiles, gorillas, and elephants, the Safari Park is a must-visit destination for animal lovers. The thrill of the safari ride is amplified by the possibility of curious animals wandering near your safari vehicle, making it an exciting way to explore the animal kingdom.
At the Marine World, visitors can witness live shows featuring a variety of marine animals. Visitors can enjoy their afternoons at the Marine World as it is covered and the temperature is cooler than the rest of the park. A visit to Egg Island will provide a unique opportunity to see the eggs of different species of birds. In addition, the Jungle River Cruise takes visitors on a 30-minute adventure through the heart of a tropical forest, offering glimpses of gorillas, crocodiles, and elephants. The simulated jungle walk provides a chance to encounter native species living in the wild. The day's many shows, including the Bird Show, Dolphin Show, and Stunt Show, make for an exciting day at Safari World Bangkok.
Experience Thailand's tallest observatory deck at Mahanakhon SkyWalk
Be sure to add Thailand's highest observation deck to your Bangkok itinerary, where you can enjoy 360-degree views of the city skyline from both an indoor and outdoor viewing area. At 314 meters above the ground, it's a must-see attraction that promises a memorable experience.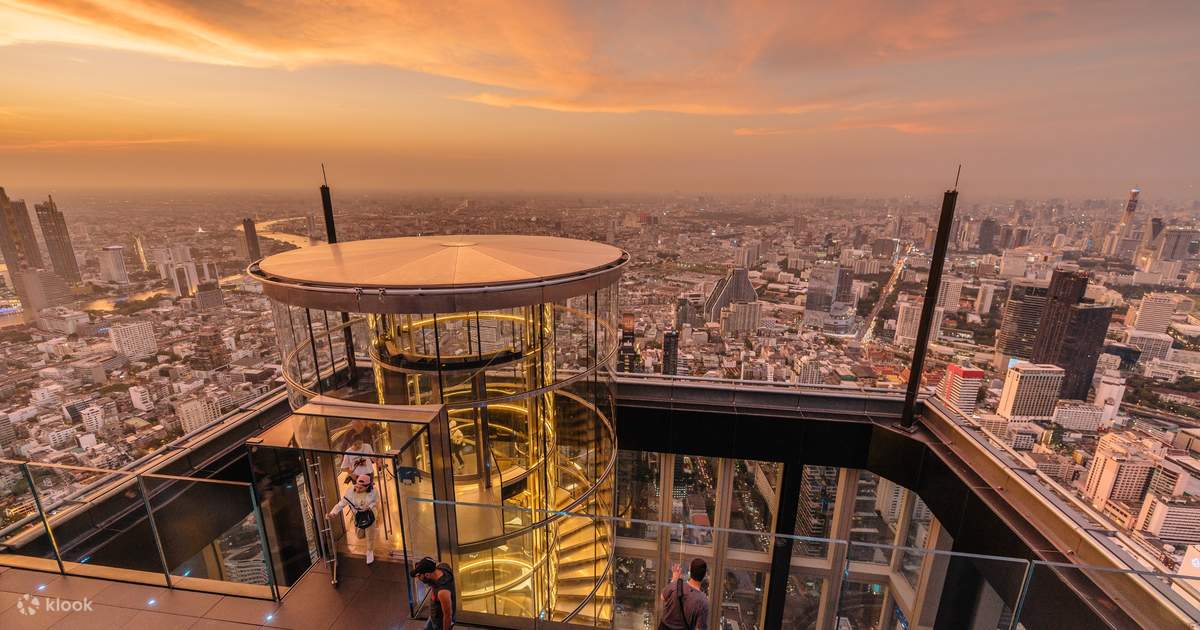 For an extra thrill, visitors can try the Glass Tray Experience from the 78th floor, where you can step onto a glass tray that extends out over the city with a bird's-eye view of the stunning skyline below. Please note that visitors must wear disposable shoe covers and keep all loose items away from the glass tray, including mobile phones. Photography is permitted from a designated photo area, so capture your adventure for memories that will last a lifetime.
Go on a Food Trip
Thailand is famous for its stunning beaches and islands, busy cities, cultural heritage, and rich history, but what truly stands out is its delicious cuisine. Bangkok is mainly known for its mouth-watering street food, considered one of the best in Southeast Asia. From sweet desserts like mango sticky rice to spicy delicacies like tom yum soup and green papaya salad, this culinary journey is not to be missed.
Here are five must-try dishes for any food lover visiting Bangkok:
Must-try Restaurants in Bangkok
Jeh O Chula
Jeh O Chula, a popular late-night supper spot in Bangkok, is renowned for its signature dish that went viral on social media and became an Instagram sensation. It has been recognized with a Michelin Bib Gourmand award for its delectable offerings.
Jeh O Chula's Mama Noodles Tom Yum is a must-try. It is the most popular dish on their menu and it's one of the reasons why people go there. However, the restaurant's menu features a range of other exceptional dishes, such as their scrumptious fried tofu with crispy garlic, boiled rice with duck, and signature crispy pork, all of which are favourites among Thai food lovers. Though the staff only converses in Thai, non-Thai speakers can refer to the English picture menu.
It's not uncommon to find an eager crowd waiting outside the restaurant for up to two hours to get a table. To avoid a long wait, it's recommended to arrive just before opening or near closing time.
Thipsamai
Pad Thai is perhaps the most iconic dish of Thai cuisine, known for its delectable blend of flavors. Originally called "Kuay Tiew Phad" or stir-fried noodles, Pad Thai rose to popularity in the 1930s when rice became scarce during World War II, and noodles became a substitute. Since then, Pad Thai has become a beloved dish among both Thai locals and international tourists, with CNN Go ranking it as the fifth most delicious food in the world in 2011.
If you're wondering where to find the best Pad Thai in Bangkok, you can easily find it almost anywhere – from five-star hotels to street food stalls and local restaurants.
Thipsamai Pad Thai Pratoopee is one of the oldest Pad Thai restaurants in Thailand, founded in 1966. Its signature recipe dates back to World War II and features Sen-Chan noodles combined with shrimp oil, deep sea prawns, and wrapped egg. Thipsamai's reputation as one of Bangkok's best Pad Thai restaurants has earned it a spot in the Michelin Guide Bangkok 2018. If you want to try Thipsamai's legendary Pad Thai at their original location, be prepared to queue up and the waiting line can be very long. Thipsamai now has five locations in Bangkok:
Pratoopee | 313-315 Maha Chai Rd, Khwaeng Samran Rat from 09:00am to midnight (+662-226-6666)
ICONSIAM from 10:00am to 10:00pm (+6691-234-5678)
Siam Paragon G floor from 10:00am to 10:00pm (+6692-744-4444)
King Power Rangnam 10:00am to 08:00pm (+6692-288-8888)
Putthamonthon Sai 4 11:00am to 08:00pm (+6686-429-9999)
Go-Ang Pratunam Chicken Rice
If you are a food enthusiast visiting Bangkok, you can't miss out on the delectable Hainanese-style chicken rice at Go-Ang Pratunam Chicken Rice. This eatery has been serving customers in Bangkok since 1960, and its popularity continues to grow among both locals and tourists.
Go-Ang Pratunam Chicken Rice is a simple stall that has amassed a loyal following of locals and savvy travelers for over six decades. The mouth-watering dish features aromatic rice, cooked with chicken oil, and served with perfectly cooked tender and juicy chicken. The dish is further enhanced with the addition of a delectable soybean, ginger and chilli dipping sauce, providing a burst of flavor that perfectly complements the chicken and rice.
Mae Varee
For decades, Mae Varee has been known for selling one of Thailand's most beloved desserts, mango sticky rice. This iconic dessert is made by topping perfectly cooked sticky rice with fresh mango, coconut milk, and a sprinkle of sesame. Mae Varee has been serving this dessert for over 20 years, and even used to operate 24 hours a day until a few years ago.
Mae Varee takes pride in using the best ingredients to create their mango sticky rice, and they also offer the dish in other unique flavors such as pandan, green tea, and even turmeric. Visitors to Bangkok can't miss the opportunity to try this classic Thai dessert at Mae Varee.
Hoi Tod Chaw Lae
Hoi Tod Chaw Lae is a popular Thai southern-style restaurant located near the Thonglor BTS station. It is famous for its crispy oyster pancakes, known as hoi tod, which are a Chinese-influenced dish that can be found throughout Asia. This restaurant is considered to serve one of the best hoi tod dishes in Bangkok. The oysters are fried with a spicy sauce, creating a delicious and unique flavor, and they are served on a crispy pancake that adds a contrasting texture. In addition to hoi tod, the restaurant is also known for its renowned prawn pad thai and other stir-fried seafood dishes. The restaurant provides a spacious and air-conditioned area for diners to enjoy their meals in comfort.
Bangkok Itinerary and Budget
How to Spend a perfect 3 days in bangkok itinerary
Day 1 in Bangkok

Start your day early to beat the crowds at the Grand Palace and Wat Phra Kaew. Hire a guide or joining a tour to learn more about the history and significance of these landmarks. Php800 for the Grand Palace entrance fee. You can also book a Bangkok city tour that includes a visit to the Grand Palace.
Then, visit Wat Pho and xplore the nearby Banglamphu area, which is known for its charming streets and local markets. Grab some lunch at a street food vendor or a small restaurant in the area. Php300 for the Wat Pho entrance fee.
In the afternoon, take a ferry across the Chao Phraya River to Wat Arun. Climb to the top of the temple for panoramic views of the city. Php150 for the Wat Arun entrance fee
Visit the Jim Thompson House, a beautifully restored traditional Thai house and museum that showcases Thai silk and local arts and crafts. Php300 for the Jim Thompson House entrance fee
Watch a Muay Thai fight in the evening or go on a food trip by visiting Jeh O and have their most sought after tom yum! Php600 if you try Jeh O Chula's Tom Yum.

Estimated budget for day 1 is around Php4,000 including food and transport + hotel cost
Day 2 in Bangkok

Visit Lumphini Park early in the morning to enjoy the cool breeze and watch locals doing their morning exercises. Consider renting a bicycle or a paddleboat to explore the park. Free entrance
Then, explore the Chatuchak Weekend Market. It is one of the largest outdoor markets in the world, so plan to spend at least a few hours here. Free entrance
Visit the Bangkok National Museum. It is a great place to learn more about Thai history and culture, but it can be overwhelming to see everything in one go. Php300 for the Bangkok National Museum entrance fee
Experience Thailand's tallest observatory deck at Mahanakhon SkyWalk located at King Power Mahanakhon and wait for the sunset. Php1,310 for the Mahanakhon SkyWalk Indoor + Rooftop Ticket . Book discounted ticket
Enjoy Khao San Road in the evening or go bar hopping in Sukhumvit or in Silom

Estimated budget for day 2 is around Php3,000. Of course, add more if you are buying stuff at Chatuchak Market and if you go bar hopping.
Day 3 in Bangkok

Experience Bangkok's floating markets in the morning. Go to Amphawa Floating Market or Damnoen Saduak. Php1,300 for a half day tour (group tour). Book a ticket

Join a cooking class to learn more about Thai cuisine and culture. Php1,600 – Book a popular cooking class in Bangkok
Go shopping at ICON Siam or at Siam Pragaon or Platinum Fashion Mall. Try the famous Pad Thai at Thipsamai. You can also go on a food trip here so prepare at least Php1,000.
Visit some of the night markets in Bangkok:

Jodd Fairs
Srinakarin Night Train Market
Chang Chui Plane Night Market
The One Ratchada
Indy Market
Chatuchak's Friday Night Market
Hua Mum Night Market

Estimated budget for day 3 is around Php5,000, add more if you are going to shop for pasalubong.
So, a full 3 days itinerary in Bangkok is not really expensive. You can bring Php15,000 and you'll be able to enjoy some of the top tourist spots in Bangkok and experience the best things to do there. For accommodation, there are cheap hotels and hostels if you are traveling on a budget, you just have to book in advance to get a good rate.
Total Estimated Budget: Php15,000 for local transport, food, and attractions + accommodation and flight cost.
Where to Stay in Bangkok
Bangkok offers a wide range of accommodation options to suit every budget and preference. Here are some of the most popular areas to stay in Bangkok:
Sukhumvit: This is a popular area for both tourists and expats, with a wide range of accommodation options from luxury hotels to budget guesthouses. Sukhumvit is also known for its shopping, dining, and nightlife options. These are some of the top-rated hotels in Sukhumvit:
Silom: Located in the heart of Bangkok, Silom is known for its financial district and nightlife scene. It is also close to popular attractions like the Grand Palace and Wat Pho. These are some of the top-rated hotels in Silom:
Khao San Road: This area is popular among backpackers and budget travelers, with many affordable guesthouses and hostels. Khao San Road is also known for its street food, nightlife, and vibrant atmosphere. These are some of the top-rated hotels in Khao San Road:
Siam: This area is known for its shopping malls, entertainment, and cultural attractions, including the Erawan Shrine and the Bangkok Art and Culture Centre. These are some of the top-rated hotels in Siam:
Riverside: This area is home to many luxury hotels and offers scenic views of the Chao Phraya River. It is also close to popular attractions like Wat Arun and the Grand Palace. These are some of the top-rated hotels in the Riverside:
Chinatown: This area is known for its food, temples, and markets. It offers a glimpse into Bangkok's Chinese heritage and culture. These are some of the top-rated hotels in Chinatown:
The best place to stay in Bangkok depends on your preferences and interests. If you're looking for a central location with a wide range of amenities and attractions, Sukhumvit and Silom are great options. If you're on a budget or looking for a more laid-back atmosphere, Khao San Road or Chinatown may be a better fit.
If you find this article useful, then please subscribe to our YouTube Channel for travel videos and guides. You can also follow us on Facebook and Instagram.
Are you dreaming of globe-trotting but fretting about the visa process? If you long for a worry-free vacation, consider exploring…